The Maison OLD/NEW
Price Down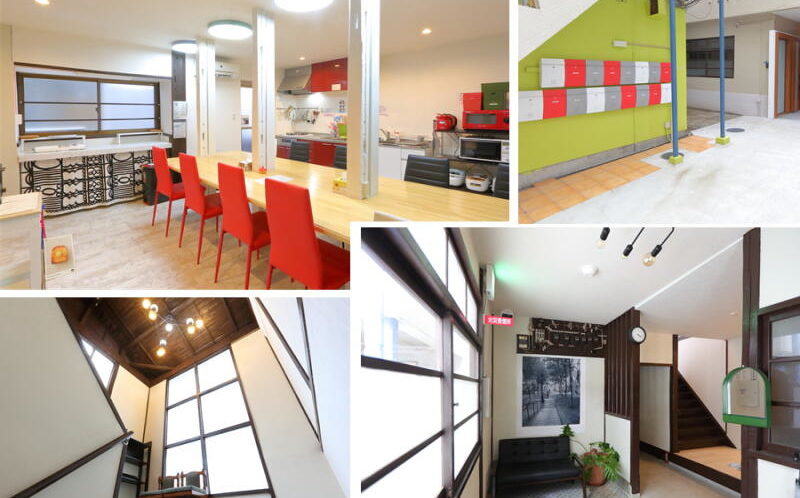 "C's share" has been operated 9 years. We only operated female-only share house in pass nine years. But starts form October 2020, "C's share" opens a new house which welcome male to move in, too. This house located at Higashiosaka City. We have planned it from 12/2017.
And finally this year, the old 50-year-old apartment has been completely transformed into a Share house. After the renovation, this house mixed modern style and old generation fashion.
Atmosphere of this house is so original and special that you could never find the second one.
To make every resident feel the cozy here, each private room is equipped with equipment that other Share Houses are not equipped. If you want to live in Share House but cannot find a room you like, please come here to experience The Maison, which is convenient and good value.
◆Opening campaign◆
Ask a house staff for more details. (The above discount is limited to those who rent for more than one year)
This house is available for 22 occupants. Size of each room 11.5 square meters.
There are bed , air-condition, private refrigerator, desk, chair, mini kitchen and storage space at each private room.
There are one big kitchen, one dining room, two living rooms, shower rooms (separate gender), toilets (separate gender), washing and drying machine (for free) at common area.
Convenient access .
4 minutes to Kintetsu Fuse station on foot. It only cost you 10 mins to go to Namba by tram.
Lots of commercial facilities and restaurants near to house.
Gym: JOYFIT24 (5 minutes on foot), TIPNESS (5 minutes on foot)
Hundred Yen Shops: Seria (4 minutes on foot), Daikoku (3 minutes on foot)
Drugstore: SUKI drugstore (1 minute on foot)
Convenient store: Familymart (3 minutes on foot), 7-11 (1 minute on foot)
Supermarkets: Kinsho (3 minutes on foot), AEON Supermarket (1 minute on foot), Bandai Supermarket (8 minutes on foot)
Bank: Mitsubishi UFJ Bank (4 minutes on foot), Sumitomo Mitsui Bank (2 minutes on foot)
Shopping street (1 minute on foot), Hibariya Bookstore (5 minutes on foot), Civic Service Center (1 minute on foot), Hellowork Job Searching Center (1 minute on foot)
You should pay the service fee 18,000 yen (only once), and fire insurance fee 5,400 yen (per year) when you move in.The occupant needs a guarantor. Foreigner needs to provide your identified ID card or passport and emergency contact information.
Location

Higashiosaka City Chodo 1 Chome
Stations

Kintetsu Osaka line/Nara line Fuse station, 4 mins on foot
Time required to terminal station

Go to Nanba station, 10 mins by train
Go to Umeda (Osaka) station, 25 mins by train (Need to transfer at Tsuruhashi station)
Tenant

Mixed gender / foreigners OK
Capacity

22 people
Shared lounge

3 places
Bicycle Parking lot

Outdoor(free) / Indoor (charge 2,000 Yen per month) * Motorcycles allowed
Internet

Wi-fi / There is a cable hole in the personal room
Common Furniture & Appliances

Table, sofa, washing machine, during machine, kitchen, oven, cooker and tableware
Room Furniture

bed, air-condition, private refrigerator, desk, chair, mini kitchen, storage space) and curtain