C's(Si:s)share Hankyu Toyonaka Music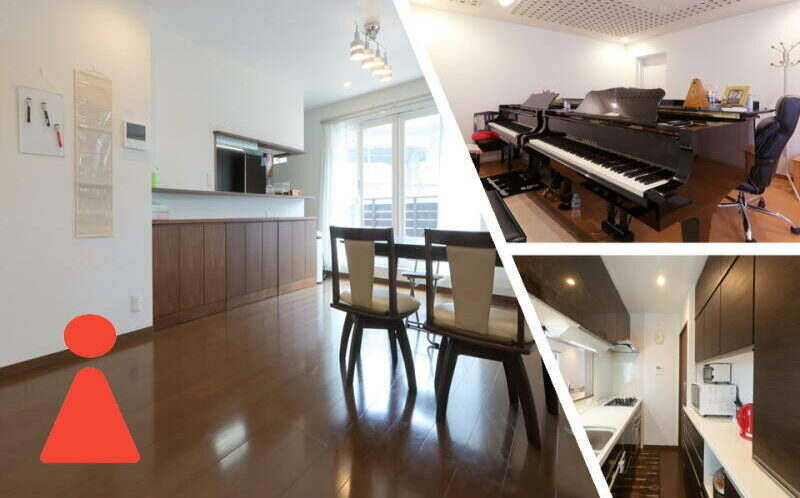 "C's(Si:s)share Toyonaka Music" is a unique share house with a music theme. It is located in a mansion that was originally home to a professor from Osaka Music University. It features a soundproofed piano room equipped with a grand piano and excellent acoustics. Not only the piano, but other musical instruments and voice training can also be practiced here.
The building is new and is equipped with a large roof balcony and the latest system kitchen, allowing you to enjoy a fulfilling lifestyle that you can't experience when living alone. This share house, which attracts music lovers, has many long-term residents because even if you meet for the first time, you can quickly become familiar with each other thanks to the common topic of music.
The location is also very convenient, it is a prime location, a 4-minute walk from Hankyu Toyonaka Station, which is in the heart of the popular Hokusetsu area. The excellent access to Umeda in 13 minutes and Takarazuka Station in 22 minutes is also attractive. Moreover, it is close to Osaka Itami Airport, which is highly convenient for those who often travel for business. It is a safe area and is connected directly from the station to the vicinity of the house, which is a reassuring environment for women.
Nearby there is a wealth of commercial facilities, including supermarkets, 100 yen stores, convenience stores, restaurants, and banks.
With a capacity of 6 people, each room is equipped with a bed, air conditioner, dresser, and storage space. The shared area includes a TV, refrigerator, washing machine, dryer, vacuum cleaner, cooking utensils, and tableware.
For all you music lovers, why not pay a visit to "C's(Si:s)share Toyonaka Music"?
Nearby facilities include: Hankyu Oasis Toyonaka Store (3-minute walk), Etre Toyonaka Store (5-minute walk), Daiei Toyonaka Station Front Store (8-minute walk), and numerous 100 yen shops, convenience stores, restaurants, and banks.
Occupancy conditions: Women only, aged 18-39.
One-time costs: Official commission of 20,000 yen. There is an examination. No guarantor required. No security deposit or key money.
Monthly costs: include Rent, Utility charge of 13,000yen, Payment fee of 800yen, Fire insurance premium of 500 yen. Guarantee charge of 1,000 yen.
Conditions for using the music room Usage fee: 2,000 yen/month Piano Wind instruments, string instruments Voice training
Location

2 Suehiro-cho, Toyonaka-city, Osaka-pref
Stations

Hankyu line Toyonaka Station on foot 4 minutes
Tenant

Only woman Non-smoking House
Capacity

6 persons (5 rooms)
Bicycle Parking lot

Yes(Free) *limited 2 bicycles
Music room

Use Music room: 2,000yen/month
Internet

Wireless LAN Wifi
Common Furniture & Appliances

washing machine with drier, dining room, television, kitchen, Cookware, microwave oven, toaster, plates, cutleries.
Room Furniture

bed, dresser, air-conditioner, lighting, closet or hanger