C's(Si:s)share Osaka University Toyonaka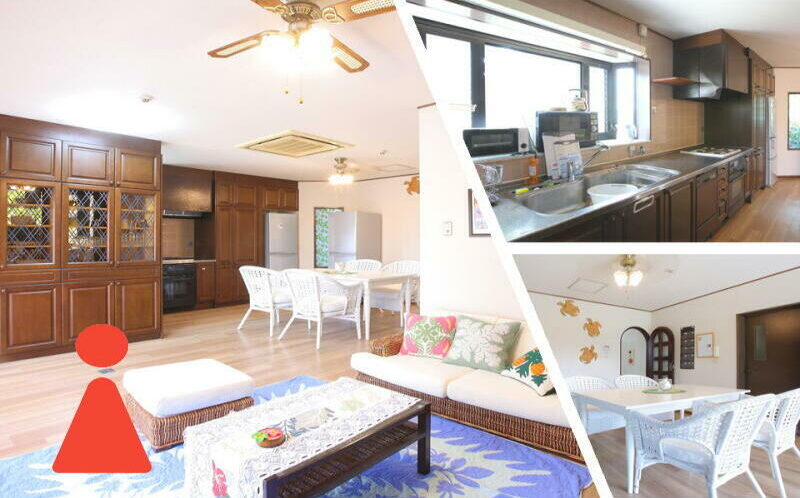 "C's(Si:s)share Toyonaka Osaka University " is a share house that's perfectly located right in front of the Osaka University Toyonaka Campus, offering you the chance to interact with a diverse community of students. Its location is super convenient, just a 2-minute walk from Osaka Monorail Shibahara Handai-mae Station, which makes it a great spot for folks working in the Hokusetsu region.
Inside the house, you'll constantly be surrounded by various languages, giving you a vibe like you're studying abroad without ever leaving the country. There's a spacious living area of over 30 square meters, a rooftop balcony, and a luxurious bathroom with a large tub. The house offers the best of both worlds, with private rooms for your personal time and communal areas to mingle with your housemates.
The house's design theme is "Hawaiian," and the living room, complete with a white table, rattan chairs, and sofa, gives off a resort-like feel.
The house is an 18-minute walk from Hankyu Toyonaka Station and a 15-minute walk from Hankyu Hotarugaike Station, providing easy access to Umeda. You can also bike to Toyonaka Station in about 10 minutes. Convenience stores and supermarkets are in the vicinity, making it easy to grab everything you need.
This 8-room share house offers rooms ranging from 9.9 square meters to 13.2 square meters, all equipped with a bed, air conditioner, dresser, and storage space. The shared area features a TV, fridge, washing machine, dryer, vacuum cleaner, and various cooking utensils and dishes, meaning you've got everything you need to start your new life.
Why not kick off your new shared living experience at "C's(Si:s)share Toyonaka Handai-mae"?
Nearby amenities include supermarkets (9-minute walk to Bandai Toyonaka Honmachi store, 13-minute walk to Chef Kawakami Toyonaka store, 13-minute walk to Hankyu Oasis Hotarugaike store), and Toyonaka Shibahara Post Office is just a 10-minute walk away.
Occupancy conditions: Women only, aged 18-39
One-time costs: Official commission of 20,000 yen. There is an examination. No guarantor required. No security deposit or key money.
Monthly costs: include Rent, Utility charge of 13,000yen, Payment fee of 800yen, Fire insurance premium of 500 yen. Guarantee charge of 1,000 yen.
Location

10 Toneyamahonmachi Toyonaka-city , Osaka-pref
Stations

Osaka monorail Shibahara Station on foot 1 minutes
Hankyu Toyonaka Station by bicycle 8 minutes
Hankyu Hotarugaike Station by bicycle 7 minutes
Tenant

Only woman Non-smoking House
Capacity

8 persons
Bicycle Parking lot

Yes
Parking lot

No
Internet

Wireless LAN Wifi
Common Furniture & Appliances

washing machine, drier, dining room, 40 type television, kitchen, Cookware , microwave oven, toaster, plates, cutleries, Roof terace
Room Furniture

bed, dresser, air-conditioner, lighting, closet