C's(Si:s)share Osaka University Toyonaka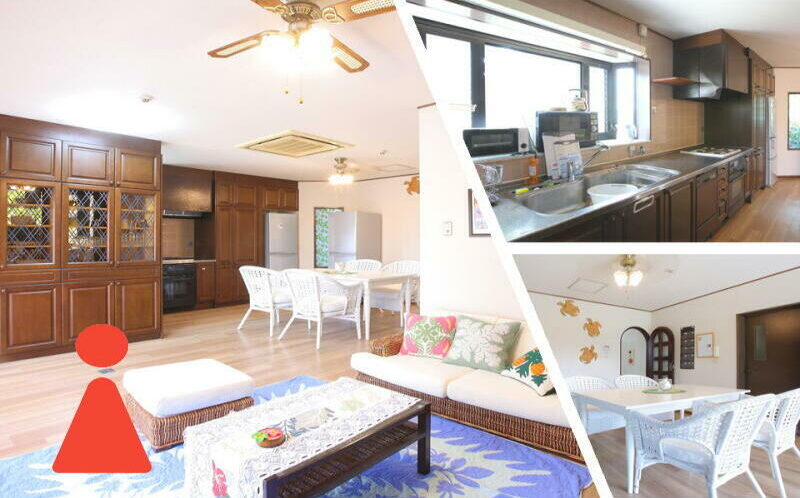 "I want to make a lot of friends from all over the world in one place!" If this is how you feel, this is the house for you!
C's(Si:s)share Toyonaka Osaka was designed with a theme of "Like International Life." Currently this location is occupied by Osaka university students, full time workers, international students, and just those who love Toyonaka. This detached house has 8 rooms in addition to its living room and kitchen areas, and offers comfortable space even for taller women; with a living room and rooftop each a spacious 33 square meters, you'll feel comfortable here no matter who you are. The house also has large bathtubs in the common bathrooms! Whether you're spending your time privately or having fun with your roommates, this house is waiting to welcome you to your new life!
Access
Osaka Monorail – Shibahara Station, 3 min on foot; Hankyu Toyonaka Station, 18 min on foot; Hankyu Hotarugaike Station, 15 min on foot. By bike, Toyonaka Station is about 10 minutes away.
Supermarkets and convenience stores nearby!
Supermarkets (Co-op Mini Sakura-no-machi, 9 min on foot; Hankyu Oasis Hotarugaike branch, 13 min on foot), Toyonaka Shibahara Post Office, 10 min on foot.
For 8 tenants each room is 9.9-13.2m2 and includes bed, dresser, air conditioner, storage space
Common area includes television, refrigerator, washing machine, dryer, vacuum cleaner, cookware, dishware
When you move in, there is a one time Official commission of 18,000 JPY. Fire insurance is 5,400 yen a year. Move-in interview/background check. Guarantee charge is 1,000 JPY a month.
Location

10 Toneyamahonmachi Toyonaka-city , Osaka-pref
Stations

Osaka monorail Shibahara Station on foot 1 minutes
Hankyu Toyonaka Station by bicycle 8 minutes
Hankyu Hotarugaike Station by bicycle 7 minutes
Tenant

Only woman Non-smoking House
Capacity

8 persons
Bicycle Parking lot

Yes
Parking lot

No
Internet

Wireless LAN Wifi
Common Furniture & Appliances

washing machine, drier, dining room, 40 type television, kitchen, Cookware , microwave oven, toaster, plates, cutleries, Roof terace
Room Furniture

bed, dresser, air-conditioner, lighting, closet