C's(Si:s)share Osaka University Suita Campus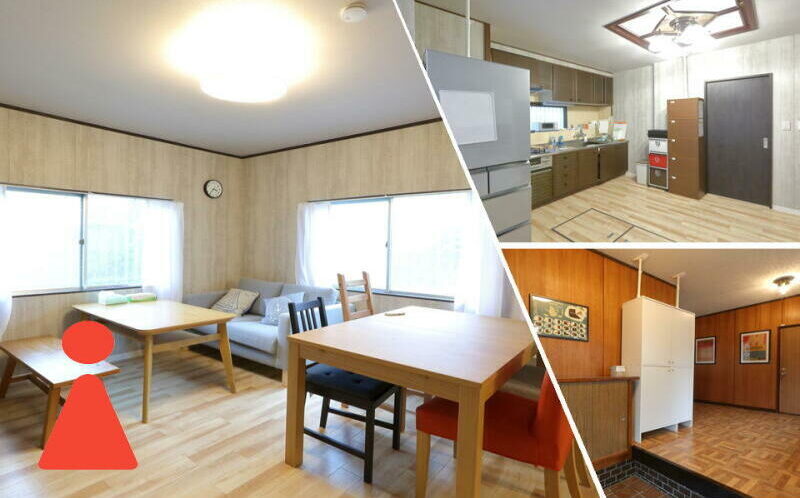 Going to Osaka University Suita Campus and Ritsumeikan University Ibaragi Campus by bicycle will only cost approximately 10 minutes! This house is very convenient for commuting to school.
This is an international area because there are many students from other countries.
This share house is a good ideal for those who wish to have an international exchange.
Not only supermarkets and convenience stores, there is a large shopping mall (LaLaport Expocity) around this house. You can go hiking and cherry-blossom viewing at Expo'70 Commemorative Park on weekend.
Commuting to Umeda will only cost you about 35 minutes by JR.
In addition to Umeda, it is also convenient to commute to Toyonaka, Suita or Ibaraki city.
There is also a free bicycle parking lot.
Please feel free to visit us.
This house is available for 9 occupants. Size of each room is 7.9-12 square meters.
There are bed , air-condition, table and storage space at each private room.
There are TV, refrigerator, washing and drying machine, vacuum cleaner, cooker, tableware at common area.
Access of the house
It will only cost you 10 minutes to go to Osaka University Suita Campus, and 11 minutes to go to Ibaraki Campus of Ritsumeikan University .
If you plan to walk to the University from "Koen Higashiguchi Station" of Osaka Monorail, it will cost you 16 minutes.
And it only cost you 14 minutes to go to the University by bus.
It cost approximately 10 minutes by bicycle to the Osaka University Suita Campus.
It takes about 11 minutes by bus or bicycle to the Ibaraki Campus of Ritsumeikan University.
Life function
There are lots of stores around the house.
Convenience store (family mart, 6 mins on foot), Super market(MARUYASU, 6 mins on foot), LaLaport expocity shopping mall ( 26 mins on foot ).
You should pay the service fee 18,000 yen (only once), and fire insurance fee 5,500 yen (per year) when you move in. The occupant needs a guarantor. Foreigner needs to provide your identified ID card or passport and emergency contact information.
Location

Minami Kasugaoka, Ibaragi-city, Osaka
Stations

Osaka University Suita Campus bicycle 10min
Monorail Koen Higashi station 16 min on foot
JR line Ibaragi station bus 14min
Time required to terminal station

Osaka University Suita Campus 10min by bicycle
Ritsumeikan University Ibaraki Campus 11 min by bicycle
Senri Chuo station 30 minutes by train
Osaka(Umeda)station 35 minutes by train and bus
Tenant

Female, no smoking
Capacity

9 people
Shared lounge

1 place
Parking lot

Free
Internet

Wi-fi
Common Furniture & Appliances

table, sofa, wsashing machine, drying machine, kitchen, microwave oven, oven, cooker, tableware
Room Furniture

Bed, dressing desk, air-conditioner, closet, refrigerator, curtain