C's(Si:s)share Tanimachi 7-chome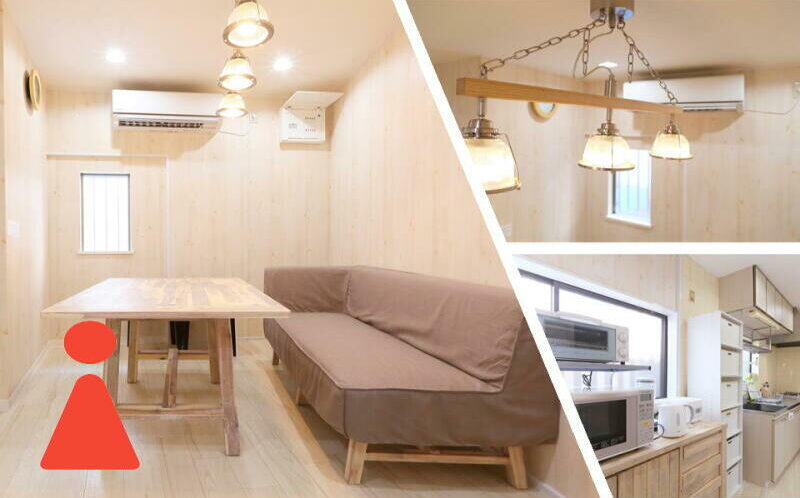 The "C's (Si:s)share Tanimachi 7-chome" is a three-story house that was renovated in 2017. As a share house with a limit of just four residents, it's the perfect spot for those of you who crave a peaceful, tranquil living environment.
It's ideally located with access to three subway lines: the Tanimachi Line, the Tsurumi-ryokuchi Line, and the Sennichimae Line. This makes getting to Umeda, Namba, Shinsaibashi, and Tennoji a breeze – just a 10 to 15-minute ride. Plus, the area is scattered with temples, giving you a taste of the cozy ambiance of this old castle town.
The popular "Karahori Shopping Street" is just a 4-minute walk away. It's lined with trendy cafes and eateries that often get featured in magazines. Discovering your new favorite spot is part of the fun here! You can also bike to Namba and Shinsaibashi, and Shinsaibashi is only a 15-minute walk away.
The neighborhood has everything you need. There's a family supermarket just a 3-minute walk away, Hankyu Oasis is 5 minutes on foot, and Super Tamade is only an 8-minute walk. Plus, you've got the Sumitomo Mitsui Bank 8 minutes away and the Osaka Tanimachi Post Office just 3 minutes away.
Each private room ranges from 7.0 to 10.1 square meters, equipped with a bed, air conditioning, a dresser, and ample storage space. The shared area comes with a TV, refrigerator, washing machine, dryer, vacuum cleaner, and kitchen appliances, including dishes.
Why not start your new chapter at "C's (Si:s)share Tanimachi 7-chome"? We're looking forward to hearing from you!
Convenience stores (7-Eleven 3-min walk / FamilyMart 2-min walk), supermarkets (Family Supermarket 3-min walk / Hankyu Oasis 5-min walk / Super Tamade 8-min walk), Sumitomo Mitsui Bank 8-min walk, Osaka Tanimachi Post Office 3-min walk.
Occupancy conditions: Women only, aged 18-39.
One-time costs: Official commission of 20,000 yen. There is an examination. No guarantor required. No security deposit or key money.
Monthly costs: include Rent, Utility charge of 13,000 yen, Payment fee of 800 yen, Fire insurance premium of 500 yen. Guarantee charge of 1,000 yen.
Location

7chou-me Tanimachi Chuuou-ku Osaka-city
Stations

Subway Tanimachi line / Tsurumiryokuchi line Tanimachi 6chou-me on foot 4min
Subway Tanimachi line / Sennichimae line Tanimachi 9chou-me on foot 6min
Time required to terminal station

Higashiumeda 8 min / Shinsaibashi 3 min
Namba 3 min / Tennoji 3 min
Tenant

Only for Women / No smoking
Capacity

4 people
Bicycle Parking lot

Free (parking space in front of the entrance.)
Internet

Wireless LAN Wifi
Common Furniture & Appliances

Table, Sofa, Washing machine, Drying machine, Kitchen, Microwave Oven, Toaster, Cooking wares, Tableware
Room Furniture

Bed, Dresser-desk, Air Conditioner, Closet