C's(Si:s)share Tamatsukuri 1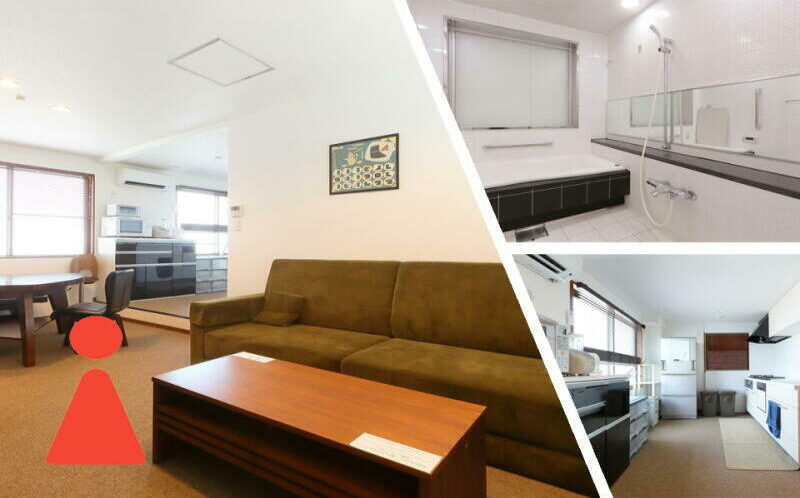 "C's (Si:s)share Tamatsukuri 1" is situated in the Tamatsukuri district, located south of Osaka Castle, nestled in a corner of a green, cultural and educational area. With parks and schools nearby, the area has excellent safety, making it popular among young families.
The place is served by three transit lines making it extremely accessible: a 4-minute walk to JR Tamatsukuri Station, a 6-minute walk to the Tamatsukuri subway station, and an 8-minute walk to Morinomiya subway station. It's only about a 15 to 20-minute ride to main Osaka areas like Umeda, Shinsaibashi, Namba, and Tennoji.
The interior of the house features a curated selection of furnishings by the owner, complete with a sofa and dining set. Each room is equipped with a bed, air conditioner, dresser, closet, mini fridge, and TV. The building's double lock system ensures security, making it a safe living environment even for first-time solo dwellers or women.
The neighborhood has plenty of supermarkets, post offices, banks, and shopping streets, making daily shopping, walks, and trips to the downtown area enjoyable. It has been used by commuters to Umeda and Tennoji, recruiters, and foreign women staying on working holidays.
Why not start your new journey at "C's (Si:s)share Tamatsukuri 1"? We're eagerly awaiting your inquiry.
Supermarkets (Life Tamatsukuri Store 2-min walk / Super Tamade Tamatsukuri Store 2-min walk / Morinomiya Q's Mall 15-min walk), Convenience Store (Lawson 3-min walk), Osaka Tamatsukuri Post Office 4-min walk.
Occupancy conditions: Women only, aged 18-39.
One-time costs: Official commission of 20,000 yen. There is an examination. No guarantor required. No security deposit or key money.
Monthly costs: include Rent, Utility charge of 13,000yen, Payment fee of 800yen, Fire insurance premium of 500 yen. Guarantee charge of 1,000 yen.
Location

3chou-me Nakamichi Higashinari-ku Osaka-city
Stations

JR loop line Tamatsukuri station 4min walk
Subway Tsurumiryokuchi line Tamatsukuri station on foot 6min.
Subway Chuo & Tsurumiryokuchi line Morinomiya station on foot 8min.
Time required to terminal station

Osaka(Umeda) 13min / Shinsaibashi 6min
Shinsaibashi 6min / Tennoji 8min
Tenant

Only for Women / No smoking
Capacity

5 people
Bicycle Parking lot

No
Internet

Wireless LAN
Common Furniture & Appliances

Table , Sofa , Washing machine , Drying machine , Kitchen, Microwave Oven, Toaster , Cooking wares, Tableware
Room Furniture

Bed , Dresser-desk , Air Conditioner , Closet, Refrigerator, TV