C's(Si:s)share Umeda5 Chayamachi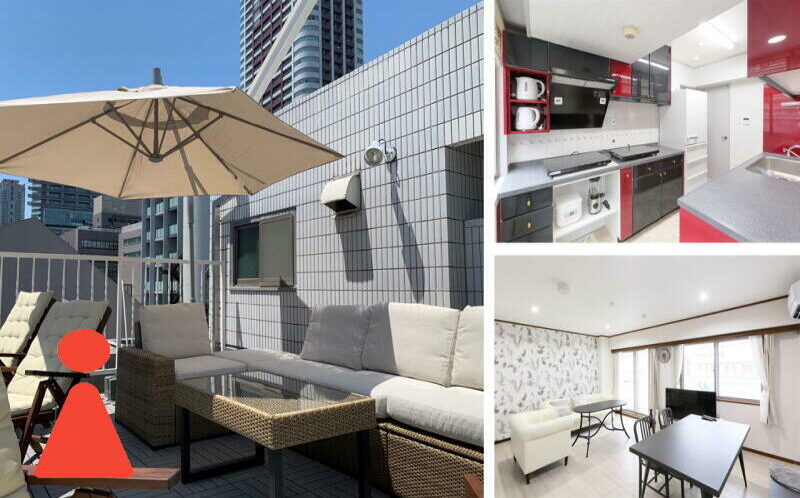 New open on September 2018!
This house is close to Umeda, Chayamachi and Nakazaki area. It is a quire good location to live. Recommend to you who are full of motivation for life! In the evening, you can go to the roof of the house to enjoy the night view of Osaka city, or return to the spacious living room or bathroom to relax. The facilities in the house are all prepared on the shoes of female, and we recommend this house to those who are looking for a convenient place with a good sense to live.
The house was renovated by our professional team, and there is 15 single rooms and 1 twin room, so this house is available for 17 people to live. Each room is settled with bed, table, and armoire. Of course, there is wi-fi in each room, too.
If you want to live in the "Umeda area" and want to live a life full of activity and motivation, please come to visit this house!
This house is available for 17 people to live, and area of each room is 7.0~18.9㎡
There are bed, air-condition, table, armoire at each room.There are TV, refrigerator, washing and drying machine, vacuum cleaner, cooker, tableware at common area.
Access of the house
You can walk to Umeda 7 mins on foot. Good transit to subway (Tanimachi line and Midosuji line), Hankyu Line, JR Line, and Hanshin Line.
Life function
Supermarket (業務用食品館, 7 mins on foot ), convenience store (7-11 and familymart, 1 mins on foot), 天五中崎通 shopping street ( 7 mins on foot), HEP FIVE( 7 mins on foot ), Loft( 5 mins on foot ), Nakazakichou post office ( 5 mins on foot).
You need to pay the service charge, 18,000 yen, when you move in. Fire insurance 5,400 yen per year.Foreigner needs to provide your identified ID card or passport and emergency contact information.
Location

2 Chome Nakazakinishi, Kita-ward, Osaka-city, Osaka
Stations

Subway Tanimachi line Nakazakicho station 3 min on foot
Hankyu line Umeda station 7 min on foot
Subway Midosuji line Umeda station 9 min on foot
JR line Osaka station 11 min on foot
Time required to terminal station

Osaka (Umeda) station 7 minutes on foot
Tenant

Female, no smoking
Capacity

17 people
Shared lounge

1 place
Bicycle Parking lot

None
Internet

Wi-fi
Common Furniture & Appliances

table, sofa, wsashing machine, drying machine, kitchen, microwave oven, oven, cooker, tableware

Room Furniture

Bed, dressing table, air-conditioner, armoire, refrigerator