C's(Si:s)share Umeda5 Chayamachi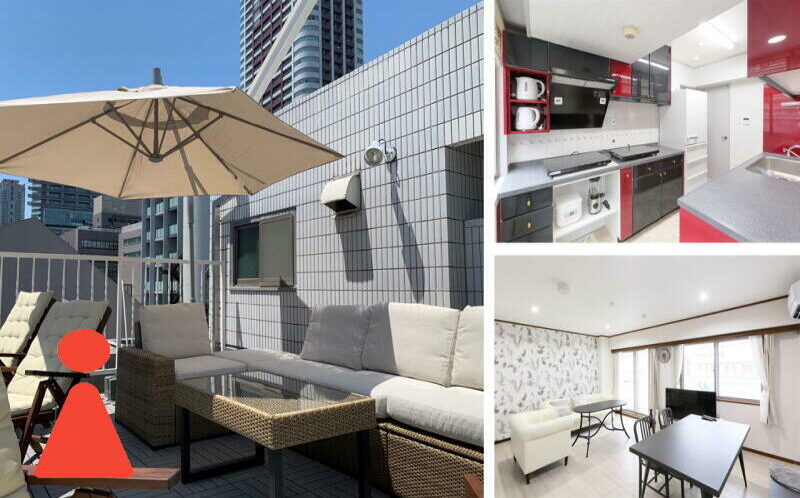 Located close to Umeda and Chayamachi, this share house boasts one of the best locations in Osaka city. This share house is perfectly suited for women who want to lead an active lifestyle.
From the rooftop terrace, you can enjoy the city's nighttime view. Facilities designed from a female perspective, such as a spacious kitchen, a bathroom with a bathtub, a dresser desk, and a full-length mirror, ensure you a comfortable and cozy living experience.
We have 16 rooms in total, all Western-style, equipped with a bed, air conditioner, refrigerator, dresser desk, and storage space. Wi-Fi is also available on each floor.
In the shared area, we have a TV, refrigerator, washer-dryer, vacuum cleaner, cooking utensils, and tableware. Moreover, the accessibility to Umeda is convenient, reachable within a 7-minute walk. As the subway Tanimachi Line, Midosuji Line, various Hankyu Lines, JR Lines, and Hanshin Line are available, the transport convenience is outstanding.
There's a wealth of commercial facilities and eateries in the surrounding area. You can easily buy necessary items at the convenience stores (Seven-Eleven and FamilyMart) within a 1-minute walk. In addition, you can conveniently procure food and daily necessities at the nearby CoDeli Nakazaki Nishi 3-chome store, AEON Food Style, Life Supermarket, and Gyomu Super, all within walking distance. Plus, HEP FIVE and Umeda LOFT, perfect for shopping and entertainment, are just a 5-minute walk away. You'll be able to enjoy a variety of shopping and cultural events.
We're looking forward to welcoming women who want to lead an active lifestyle. Please do come and visit C's (Si:s)share Umeda 5 Chayamachi.
Nearby amenities include: Convenience Stores (Seven-Eleven, FamilyMart – 1 min walk), Supermarkets (CoDeli Nakazaki Nishi 3-chome store – 1 min walk, AEON Food Style – 4 min walk, Life Supermarket – 4 min walk, Gyomu Super – 7 min walk), HEP FIVE (7 min walk), Umeda LOFT (5 min walk), and Nakazaki Post Office (5 min walk).
Occupancy conditions: Women only, aged 18-39
One-time costs: Official commission of 20,000 yen. Fire insurance premium of 5,400 yen a year, which is renewed yearly. There is an examination. No guarantor required. No security deposit or key money.
Monthly costs: include Rent, Utility charge of 12,500 yen, Payment fee of 800 yen, Guarantee charge of 1,000 yen.
Location

2 Chome Nakazakinishi, Kita-ward, Osaka-city, Osaka
Stations

Subway Tanimachi line Nakazakicho station 3 min on foot
Hankyu line Umeda station 7 min on foot
Subway Midosuji line Umeda station 9 min on foot
JR line Osaka station 11 min on foot
Time required to terminal station

Osaka (Umeda) station 7 minutes on foot
Tenant

Female, no smoking
Capacity

17 people
Shared lounge

1 place
Bicycle Parking lot

None
Internet

Wi-fi
Common Furniture & Appliances

table, sofa, wsashing machine, drying machine, kitchen, microwave oven, oven, cooker, tableware

Room Furniture

Bed, dressing table, air-conditioner, armoire, refrigerator