Share House HARUIRO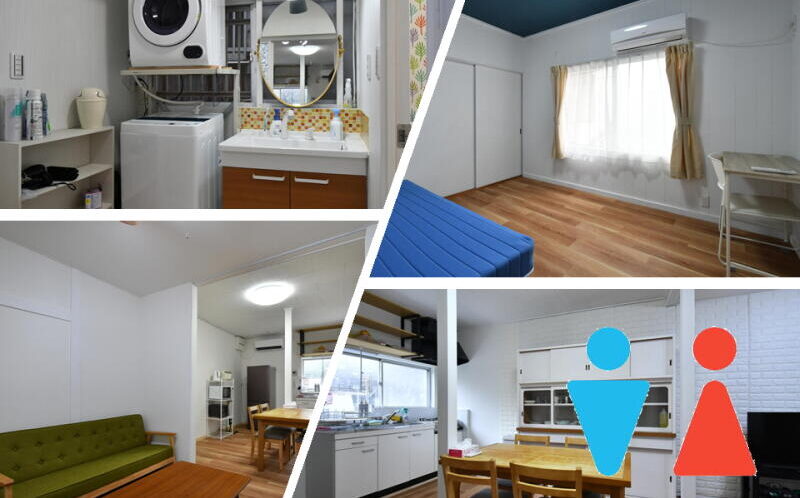 "Share House Haruiro" is a share house that has undergone a full renovation of an old private house. We are seeking members who are excited to start a new communal life together.
Each individual room is spacious with ample storage. The water areas are all brand new and sparkling clean. Furthermore, the shared area includes all the necessary facilities for daily life, such as a TV, refrigerator, washing machine, dryer, vacuum cleaner, cooking utensils, and tableware. Thanks to the high-speed fiber optic Wi-Fi connection, it's also ideal for remote work.
The location is fantastic, conveniently situated just a 5-minute walk from Kadoma-shi Station on the Keihan and Osaka Monorail lines. It's located in a quiet downtown area, allowing easy access to both Osaka city and the Kyoto area. Since you can get to Osaka International Airport in a single ride, it's a convenient location for both work and play. The excellent location, just 9 minutes by train to Kyobashi, is also an attractive feature.
In the vicinity, you'll find the "Izumiya Kadoma" supermarket, "Family Mart" convenience store, "Kadoma Shinbashi Post Office", "Can Do" 100 yen shop, and the "Daikoku Drug" drugstore, ensuring you won't lack for anything in your daily life. In May 2023, "Lalaport Kadoma" opened just an 8-minute walk away, making weekend shopping even more convenient.
"Share House Haruiro" is the perfect stage to start a new communal life with your new companions. Don't miss this opportunity to start a new life with just one bag. We look forward to your tours and inquiries with all our heart.
Supermarket Izumiya Kadoma Store – 5 min walk, Convenience Store Family Mart – 3 min walk, Kadoma Shinbashi Post Office – 3 min walk, 100 Yen Shop Can Do – 5 min walk, Drugstore Daikoku Drug – 5 min walk, Lalaport Kadoma – 8 min walk.
Occupancy conditions: Male/Female, aged 18-49.
One-time costs: Official commission of 20,000 yen. Fire insurance premium of 5,400 yen a year, which is renewed yearly. There is an examination. No guarantor required. No security deposit or key money.
Monthly costs: include Rent, Utility charge of 13,000 yen, Payment fee of 800 yen, Guarantee charge of 1,000 yen.
Location

Osaka Kadoma City Shinbashi cho
Stations

Keihan Line Kadomashi Station, 5 mins on foot
Osaka Monorail Line Kadomashi Station, 5 mins on foot
Time required to terminal station

Take on tram at Kadomashi Station to go to Kyobashi station, 10 mins
Take on tram at Kadomashi Station to go to Osaka Airport, 38 mins
Take on tram at Kadomashi Station to go to Kyoto Sanjo, 50 mins
Tenant

Mixed gender / foreigners OK
Capacity

6 people
Shared lounge

3 lots (free)
Bicycle Parking lot

1 places
Internet

Wi-fi
Common Furniture & Appliances

Dining table, sofa, washing machine, drying machine, kitchen, microwave oven, toaster, refrigerator, cooker, tableware
Room Furniture

Bed, desk (table), air conditioner, closet (storage space), curtain