C's(Si:s)share Share House HARUIRO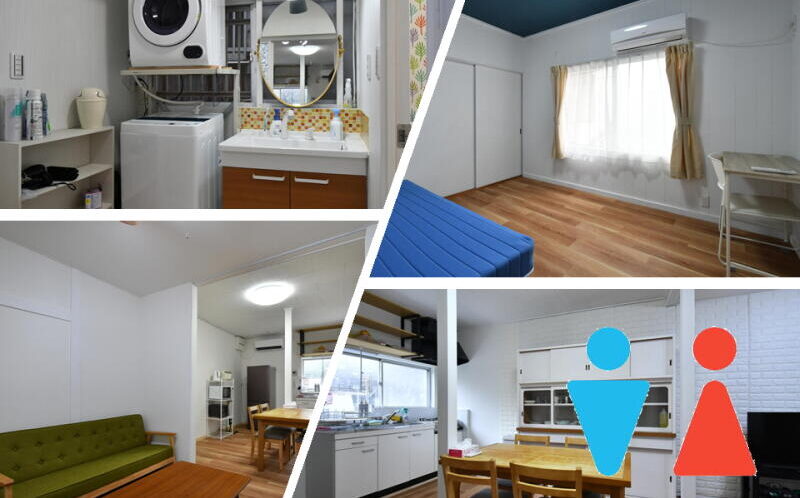 the sinks, etc. are all re-installed with new ones. Each room has ample storage space.
It's a new opened share house, so it may be easy to get with others well. Furniture, appliances and bedding are available, and you can start a new life immediately when you move in with a suitcase.
This house is recommended to people who always move, people who worry about being unsafe by living alone, people who feel lonely when they being alone, and those who want a full range of facilities at a low rent. Be sure to come and visit! There is high-speed Wi-Fi installed in the house, so you can work at home or watch TV shows without any problems.
It only takes 5 minutes to walk to Kadoma station, and it is very convenient to go to Osaka city, Kyoto, and even Osaka Itami Airport. it's a great location for going to work and playing out, and it only takes 9 minutes to reach Kyobashi Station.
This house is available for 6 occupants. Size of each room is 7.4~13.2 square meters. All rooms have bed, air-condition, table and storage space. There are TV, refrigerator, washing and drying machine, vacuum cleaner, cooker, tableware at common area.
It only takes 5 minutes to walk to Kadoma Station, and there are two ways to Kyoto and Osaka Itami Airport.
You can go directly to Kyoto by taking the Keihan train. And taking on the longest monorail in Japan, going to Toyonaka, Ibaraki and Osaka Itami airport is easy, too.
Lots of commercial facilities around the house.
Super market (Izumiya, 5 mins on foot), Convenience store (Family Mart, 3 mins on foot), Kadomashinbashi Post Office (3 mins on foot), 100 Yen Shop (Can Do, 5 mins on foot), Drugstore Daikoku (5 mins on foot)
You should pay the service fee 18,000 yen (only once), and fire insurance fee 5,400 yen (per year) when you move in. Foreigner needs to provide your identified ID card/passport and emergency contact information.
Location

Osaka Kadoma City Shinbashi cho
Stations

Keihan Line Kadomashi Station, 5 mins on foot
Osaka Monorail Line Kadomashi Station, 5 mins on foot
Time required to terminal station

Take on tram at Kadomashi Station to go to Kyobashi station, 10 mins
Take on tram at Kadomashi Station to go to Osaka Airport, 38 mins
Take on tram at Kadomashi Station to go to Kyoto Sanjo, 50 mins
Tenant

Mixed gender / foreigners OK
Capacity

6 people
Shared lounge

3 lots (free)
Bicycle Parking lot

1 places
Internet

Wi-fi
Common Furniture & Appliances

Dining table, sofa, washing machine, drying machine, kitchen, microwave oven, toaster, refrigerator, cooker, tableware
Room Furniture

Bed, desk (table), air conditioner, closet (storage space), curtain