C's(Si:s)share Morishoji Music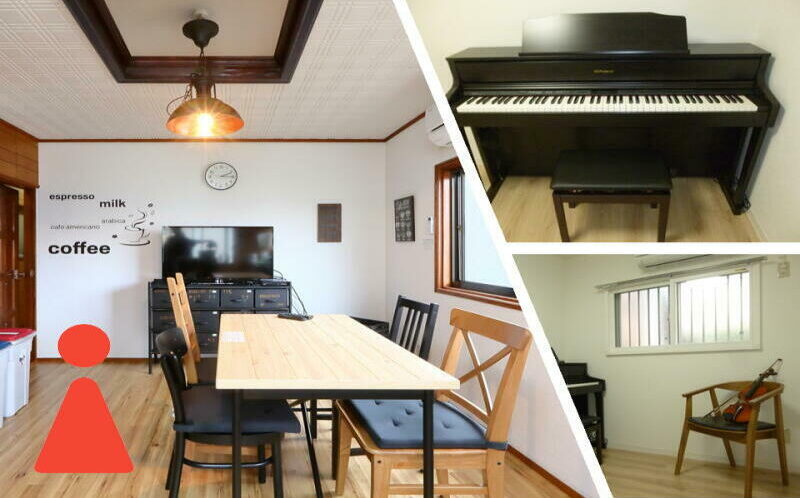 "C's (Si:s) share Keihan Morishoji Music" provides an environment where you can play musical instruments. Equipped with a soundproof room and a Roland electronic piano, it is an ideal communal living space for music lovers.
In the vicinity, there is the largest park in Osaka City, "Tsurumi Ryokuchi", which is a 20-minute walk from the share house. It offers a great environment for jogging. In addition, the lively Senbayashi Omiya shopping street is just a 9-minute walk away, and convenient supermarkets, drugstores, and convenience stores are also nearby for daily shopping.
Access is also very convenient, with a 4-minute walk to Keihan Morishoji Station, an 11-minute walk to Senbayashi Omiya Station on the Subway Tanimachi Line, and a 10-minute walk to Shin Mori Furuichi Station on the Subway Imazatosuji Line. It is ideally located, with 16 minutes to Yodoyabashi by Keihan, 6 minutes to Kyobashi, and 11 minutes to Higashi Umeda using the Subway Tanimachi Line.
The design theme is "Brooklyn style", and it's a medium-sized share house that has fully renovated a 7LDK single-family house. Each room is about 5 to 8 tatami mats in size and comes with a bed, air conditioning, a desk, and storage space. The shared area is equipped with a TV, refrigerator, washer/dryer, vacuum cleaner, cooking utensils, and tableware.
Why not start a new life in "Morishoji", where you can enjoy the convenience of the city, the warmth of the downtown area, and abundant nature all at once? If you're interested in enjoying communal living with music, we look forward to hearing from you.
Super Apron – 3 min walk, Super National Morishoji Store – 5 min walk, Drugstore Matsumoto Kiyoshi – 2 min walk, 100 Yen Shop Daiso – 5 min walk, Post Office – 2 min walk, Senbayashi Shopping Street – 11 min walk.
Occupancy conditions: Women only, aged 18-39
One-time costs: Official commission of 20,000 yen. Fire insurance premium of 5,400 yen a year, which is renewed yearly. There is an examination. No guarantor required. No security deposit or key money.
Monthly costs: include Rent, Utility charge of 13,000 yen, Payment fee of 800 yen, Guarantee charge of 1,000 yen.
Conditions for using the music room Usage fee: 2,500 yen/month Electronic piano Wind instruments, string instruments Voice training
Location

3chome Shinmori Asahi-ward Osaka-city
Stations

Keihan Morishoji Station, 4 min walk
Subway Tanimachi Line - Sembayashi Omiya Station, 11 min walk
Subway Imazatosuji Line - Shimmori Furuichi Station, 10 min walk
Time required to terminal station

Yodoyabashi 16min / Kyobashi 6min
Tenant

Only for Women / No smoking
Capacity

6 people(6 rooms)
Bicycle Parking lot

Free(parking space in front of the entrance.)
Music room

2,500 yen / month Electronic piano string instrument playing possible
Internet

Wireless LAN
Common Furniture & Appliances

Table , Sofa , Washing machine , Drying machine , Kitchen, Microwave Oven, Toaster , Cooking wares, Tableware
Room Furniture

Bed , Dresser-desk , Air Conditioner , Closet, Refrigerator