C's(Si:s)share Morishoji Music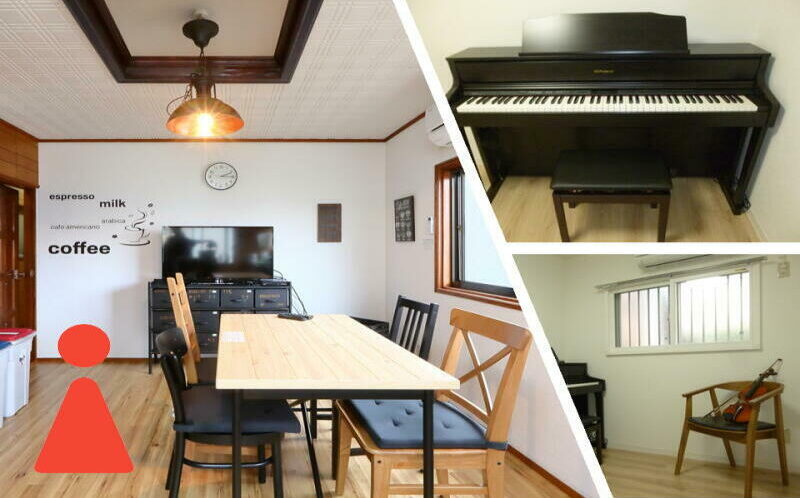 You can play musical instruments in our Morishoji . We have Roland electronic piano which can be used from beginner to advanced. There are soundproof rooms, so you can use not only piano but also guitar, wind instruments, stringed instruments.
At a 9 minute walk away, there is also Osaka's famous shopping district, Sembayashi Omiya. A lively and exciting place, it will both make your lifestyle easier and energize you. At Morishoji, you're also in a convenient location for everyday shopping, with plenty of supermarkets, drugstores, and convenience stores nearby. Through the Keihan line, you can reach Yodoyabashi in 16 minutes, and Kyobashi in 6 minutes. If you take the subway Tanimachi Line (Sembayashi Omiya station), you can reach Higashi-Umeda station in 11 minutes.
The design theme for this sharehouse is Brooklyn style! It's a fully-renovated midsized sharehouse, with a living room, dining room, and kitchen, as well as 7 additional rooms. Get the full plate: the convenience of living close to the city, the warmth of living in a smaller neighborhood, and the abundance of nature, all in one place. Start your new, comfortable life at Morishoji!
Soundproof room where instruments can be played Roland HP 605-CRS
For 6 tenants; rooms are about 8.65-12.24m2. Each room includes bed, air conditioner, desk, storage space
Common area includes television, refrigerator, washing machine + dryer, vacuum cleaner, cookware, dishware
Access
Easy access to 3 lines. Keihan Morishoji Station, 4 min on foot; Subway Tanimachi Line - Sembayashi Omiya Station, 11 min on foot; Subway Imazatosuji Line - Shimmori Furuichi Station, 10 min on foot. On the Keihan line (16 min from Yodoyabashi Station, 6 min from Kyobashi Station).
Local commerce and restaurants
Supermarkets (Fresh Food Market Appro Shimmori, 3 min on foot; Supernational Morishoji, 5 min), drugstores (Matsumoto Kiyoshi Shimmori, 2 min on foot), 100 yen shops (Daiso, 5 min on foot), convenience stores (Family Mart, 4 min on foot), Asahi Shimmori post office 4 min on foot.
When you move in, there is a one time Official commission of 18,000 JPY. Fire insurance is 5,400 yen a year. Move-in interview/background check. Guarantee charge is 1,000 JPY a month.
Location

3chome Shinmori Asahi-ward Osaka-city
Stations

Keihan Morishoji Station, 4 min walk
Subway Tanimachi Line - Sembayashi Omiya Station, 11 min walk
Subway Imazatosuji Line - Shimmori Furuichi Station, 10 min walk
Time required to terminal station

Yodoyabashi 16min / Kyobashi 6min
Tenant

Only for Women / No smoking
Capacity

6 people(6 rooms)
Bicycle Parking lot

Free(parking space in front of the entrance.)
Music room

2,500 yen / month Electronic piano string instrument playing possible
Internet

Wireless LAN
Common Furniture & Appliances

Table , Sofa , Washing machine , Drying machine , Kitchen, Microwave Oven, Toaster , Cooking wares, Tableware
Room Furniture

Bed , Dresser-desk , Air Conditioner , Closet, Refrigerator