RARAMURI Kyoubashi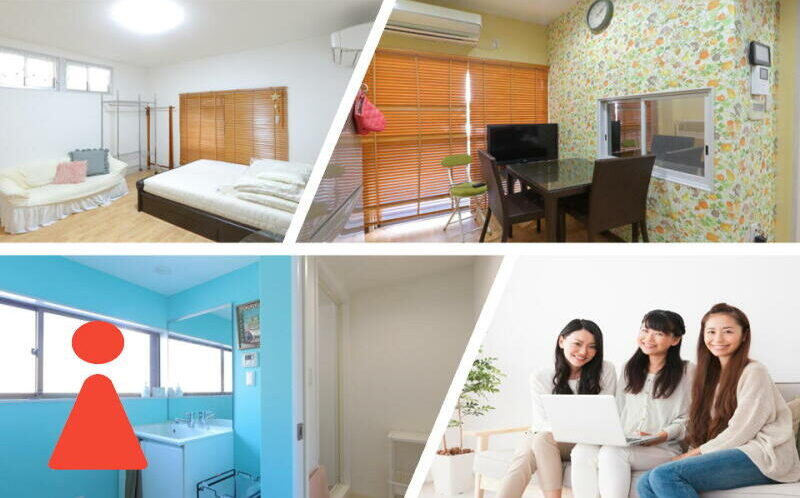 Introducing "RARAMURI Kyobashi", a share house that offers a quiet and relaxed lifestyle for adults. This will be an ideal living space for those aged 30 to 49 who seek a lifestyle at their own pace.
"RARAMURI Kyobashi" is located in a very convenient location, with direct train access to Umeda, Shinsaibashi, and Yodoyabashi. In addition, the renovated water areas, room cross, and floor give a fresh impression. Each room is independent across the corridor, allowing you to spend quiet time without being bothered by the noise from the next room.
Security is also emphasized in this share house, with the adoption of security cameras, auto-locks, and secret code keys. Each room has its own charm, for example, room 101 has a double bed, sofa, desk, and you can dry laundry on your private terrace.
Room 201 has a south-facing balcony and a private washing machine, and in Room 202 you can freely arrange the furniture and create your own space. Room 301 is a sunny room, with two storage shelves to support the lifestyle of those with a lot of luggage.
With its convenient location, there are convenience stores, supermarkets, banks, and restaurants within walking distance, so you won't have any trouble in your daily life. The four private rooms each have a size of 9.6 to 12.8 square meters, and the attractive feature is the balcony and spacious storage space. The shared area is equipped with a TV, refrigerator, washing machine, dryer, vacuum cleaner, cooking utensils, and tableware, which are necessary for life.
Three stations on the JR, Keihan, and Osaka Metro lines can be used, and there is direct access to Umeda, Shinsaibashi, and Yodoyabashi. Commercial facilities are also abundant,
There are Family Mart, Super Bandai, Sugi Pharmacy, Business Super, Post Office, Konami Sports Club, etc. nearby.
At "RARAMURI Kyobashi", you can enjoy a calm life while enjoying urban life with convenient access. We look forward to hearing from you.
Convenience Store (Family Mart 3 min walk), Supermarket (Super Bandai 6 min walk), Drugstore (Sugi Pharmacy 5 min walk), Supermarket (Business Super 6 min walk), Post Office 5 min walk, Konami Sports Club 7 min walk.
Occupancy conditions: Women only, aged 30-49.
One-time costs: Official commission of 20,000 yen. There is an examination. No guarantor required. No security deposit or key money.
Monthly costs: include Rent, Utility charge of 13,000 yen, Payment fee of 800 yen, Fire insurance premium of 500 yen. Guarantee charge of 1,000 yen.
Location

4-chome, Higashinodamachi, Miyakojima-ku, Osaka
Stations

JR Loop Line Kyoubashi station 7 min on foot
JR Tozai Line Kyoubashi station 7 min on foot
Osaka Metoro Nagahoribashitsurumiryokuchi Line Kyoubashi station 6 min on foot
Keihan Line Kyoubashi station 7 min on foot
Time required to terminal station

Osaka (Umeda) Station, 6 minutes by train
Yodoyabashi Station, 6 minutes by train
Shinsaibashi Station, 12 minutes by train

Tenant

Female Only, No Smoking
Capacity

4 Peaple
Shared lounge

1 place
Bicycle Parking lot

4 units (free)
Internet

Wi-fi
Common Furniture & Appliances

table, washing machine, drying machine, kitchen, microwave oven, toaster, refrigerator, cooker, tableware

Room Furniture

Bed, Desk, air-conditioner, Closet (storage), Shutters