Le Botejour Nanba
Monthly Plan 1month
¥90,000~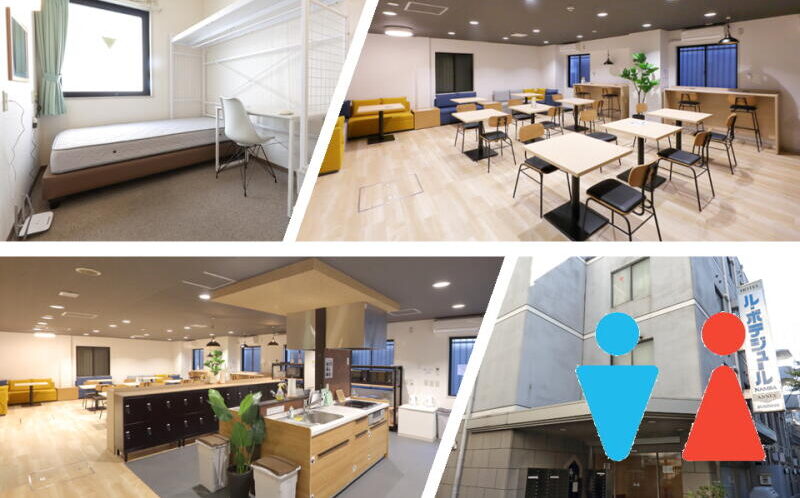 The hotel lounge was newly renovated to dining room where tenants can communicate naturally, also workspace where you can concentrate to work. There is also a soundproof playroom for practicing dance or playing musical instruments. You'll never be bored in those well-equipped common areas every day. New days which can give you "VALUE" in daily life is waiting for you.
There are 57 private rooms with bath room and toilet, which is rare in a share house. It is easy to complete your day and keep privacy when you want to spend time by yourself because of the
fulfilling of water related. No waiting for the shower,safety for the infection control,in terms of hygiene.
Standard room size 11-12㎡ Spacious room 14-17㎡
All rooms have closets, the layout is slightly different so you can arrange your own layout and make spaces. Wi-Fi and wired LAN are also available,which is good for telework. This building was used to be a business hotel made with the solid walls and the soundproofing is very good.
Infinite way for spending quality time
There is a lounge decorated with calm colors with an open feeling, provided flexible dining tables and comfortable sofa, also counter table you can relax by yourself, various places are prepared for you. The large kitchen next to the lounge is a spacious space where you can enjoy not only daily cooking but also making desserts and having parties with your sharemates. Also prepared boxes, refrigerator are also available for storing foods and ingredients.(with extra charge).
Let's enjoy share life!
In addition, there are more activities in common areas. You can do dance, yoga, workout or playing instruments in a playroom with soundproof. In the living room, you can watch over 4000 titles as much as you want on the big screen (NETFLIX). If you jump outside, you'll find "Ura-Namba". Share your favorite restaurants with the sharemates.
Living in attractive place "Ura-Namba"
Super convenient location,3minutes walk to Nihonbashi station,5minutes walk to Namba station.
Sennichimae is called "Ura-Namba". There is a lot of "reasonable and delicious" restaurants or bars, also many unique shops with human warmth in the alleys. You can take a walk with your sharemates and make a familiar shop, also go on a gourmet tour. You will never get bored
in this attractive town. No worries for shopping for food and daily necessities in the busy downtown area. There are supermarket, drugstores and Kuromon Market nearby. You can get everything reasonable and good.
Official Commission 18000 yen Fire insurance fee 5400 yen/year Guarantee fee 1000 yen/month No guarantor required.
Location

2, Sennichimae, Chuo-ku, Osaka-shi
Stations

Subway/Kintetsu Nippombashi Station 3 minutes on foot
Subway/Kintetsu/Nankai Namba Station 5 minutes on foot
Time required to terminal station

Osaka (Umeda) Station 8 minutes by train From Namba Station
Honmachi Station 4 minutes by train From Namba Station
Tenant

Male and female mixed Foreigners welcome

Capacity

57 people
Shared lounge

Yes 1 place
Parking lot

None
Internet

shared wifi, private room wifi, Wired LAN
Common Furniture & Appliances

counter, table, sofa, washing machine/dryer, Kitchen, microwave oven, toaster, refrigerator, cooking utensils, tableware, soundproof playroom

Room Furniture

bed, desk, air conditioner, refrigerator, curtains, wired LAN