C's(Si:s)share Tsuruhashi
Special offer New price
¥40,000~49,000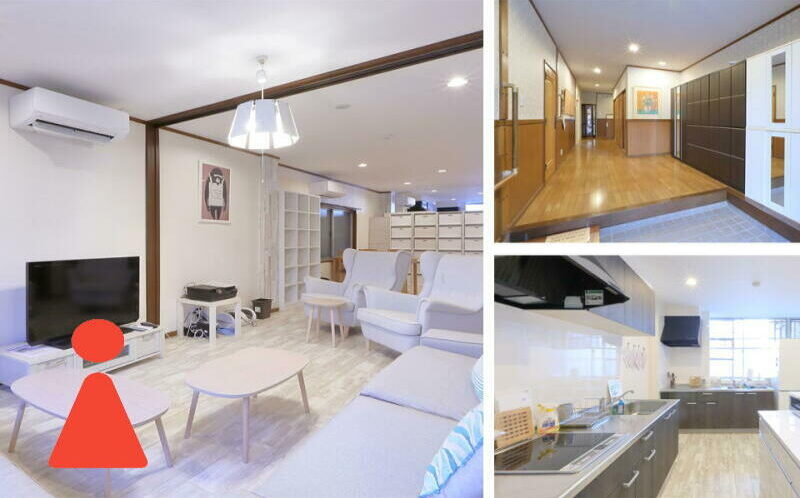 New open at December 2018!
This house is located at the Tsuruhashi Station (JR Loop Line, Kintetsu Line, and Subway Sennichimae Line). The house was renovated by our professional team, and there is a total of 21 rooms. Each of which is a single room (area 9 to 12 square meters) .
Each room has bed, refrigerator, table, and armoire. The public space areas 60㎡, with two sets of system kitchen, two sets of dining tables, also chairs and sofa. There are 2 bathrooms with bathtub, 2 shower rooms, 4 washrooms, 4 toilets, 4 washing machines and 4 dryers. There is also a terrace, a home delivery box and an automatic locking system. There are also bicycle parking lots (for ten parking spaces) and high-quality walls with good soundproofing.
It takes only 2 mins on foot from the house to the Tsuruhashi Station. It takes only 6 mins by Subwau to the "Namba Station", 15 mins to the "Osaka Station", and 6 mins to the "Tennoji Station". This house allows you to quickly and easily reach to everywhere of Osaka. Or you can ride bicycle to go to the Namba or Tennoji area easily.
On the living side, there is an "Anfure" supermarket in 5 mins and a "Hankyu Oashisu" supermarket in 8 mins. There are also many convenient stores or restaurants around the station.
This house is convenient to live, and near the station. The furniture in the house is newly purchased. It is not necessary to clean the public space on duty. It is a quirt good house , so please come to visit this house!
This house is available for 21 people to live, and area of each room is 9-12square meters
There are bed, air-condition, refrigerator, table, armoire at each room.
There are TV, refrigerator, washing and drying machine, vacuum cleaner, cooker, tableware at common area.
Access of the house
You can walk to "Tsuruhashi station" (2 mins on foot). Good transit to subway (Sennichimae line), JR Line, and Kintetsu Line.
Life function
Convenience store (7-11 and Lawson, 1 mins on foot), Supermarket (Anfure, 5 mins on foot / Hankyu Oashisu, 8 mins on foot), Ikuno Korea town ( 7 mins on foot), TennojiObasecho post office (5 mins on foot).
You need to pay the service charge, 18,000 yen, when you move in. Fire insurance 5,400 yen per year.Foreigner needs to provide your identified ID card or passport and emergency contact information.
Location

Tojocho, Tennoji-ward, Osaka-city, Osaka
Stations

Subway Sennichimae line Tsuruhashi station 2 min on foot
Kintetsu line Tsuruhashi station 2 min on foot
JR loop line Tsuruhashi station 2 min on foot
Time required to terminal station

Namba station 6 minutes by train
Tennoji station 6 minutes by train
Osaka (Umeda) station 15 minutes by train
Tenant

Female, no smoking
Capacity

21 people
Shared lounge

1 place
Bicycle Parking lot

Free
Internet

Wi-fi
Common Furniture & Appliances

table, sofa, wsashing machine, drying machine, kitchen, microwave oven, oven, cooker, tableware
Room Furniture

Bed, dressing desk, air-conditioner, closet, refrigerator