C's(Si:s)share Tsuruhashi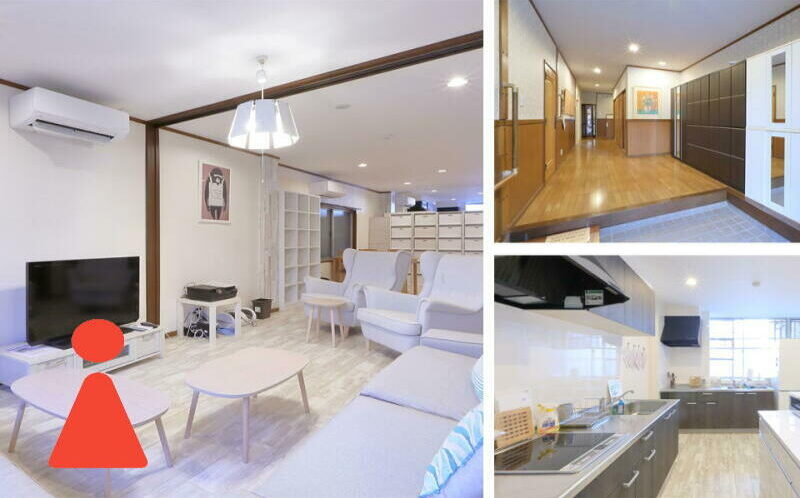 "C's (Si:s) share Tsuruhashi" is a women-only share house that resides in a four-story steel building, housing 21 rooms. The interior design is based on a calming white color scheme, and it's a popular stay for women in their 20s and 30s who are working or studying in Osaka.
The spacious communal space (about 645 square feet) has two system kitchens, a dining area, and a couch area. It's a flexible space where you can enjoy some good chit-chat, cherish your alone time, or use it in any way that suits your lifestyle.
Each room is equipped with air conditioning, a dresser desk, clothing storage, and a one-door refrigerator. Additionally, the common area has a TV, refrigerator, washer/dryer, vacuum cleaner, cooking utensils, and dishware, so you can kick off your comfortable life immediately. There are two bathrooms and two shower rooms for your convenience. The house features individual sinks, free washing and drying machines, a shared delivery box, and an auto-lock system at the entrance, all to ensure safety and peace of mind for the ladies.
The location is also quite appealing. The nearest "Tsuruhashi Station" is only a 2-minute walk away. You can use the JR Osaka Loop Line, Kintetsu Nara Line, and Subway Sennichimae Line, which provide easy access not only to the city of Osaka but also to the rest of Osaka Prefecture, Kobe, and Nara. There are many supermarkets, convenience stores, and restaurants in the area, making everyday life super convenient.
"C's (Si:s) share Tsuruhashi" is the ideal share house for women looking to kick-start a new life in Osaka. For those who are far away, we also offer virtual tours, so feel free to contact us anytime. Your new life awaits!
Local amenities: Convenience stores (7-Eleven & Lawson – 2 min walk), Supermarkets (Anfure – 5 min walk, Hankyu Oasis – 8 min walk), Ikuno Koreatown – 7 min walk, Tennoji Kobashi Post Office – 5 min walk.
Occupancy conditions: Women only, aged 18-39.
One-time costs: Official commission of 20,000 yen. There is an examination. No guarantor required. No security deposit or key money.
Monthly costs: include Rent, Utility charge of 13,000yen, Payment fee of 800yen, Fire insurance premium of 500 yen. Guarantee charge of 1,000 yen.
Location

Tojocho, Tennoji-ward, Osaka-city, Osaka
Stations

Subway Sennichimae line Tsuruhashi station 2 min on foot
Kintetsu line Tsuruhashi station 2 min on foot
JR loop line Tsuruhashi station 2 min on foot
Time required to terminal station

Namba station 6 minutes by train
Tennoji station 6 minutes by train
Osaka (Umeda) station 15 minutes by train
Tenant

Female, no smoking
Capacity

21 people
Shared lounge

1 place
Bicycle Parking lot

Free
Internet

Wi-fi
Common Furniture & Appliances

table, sofa, wsashing machine, drying machine, kitchen, microwave oven, oven, cooker, tableware
Room Furniture

Bed, dressing desk, air-conditioner, closet, refrigerator