C's(Si:s)share Nishi Kujo
Special offer New price
¥40,000~42,000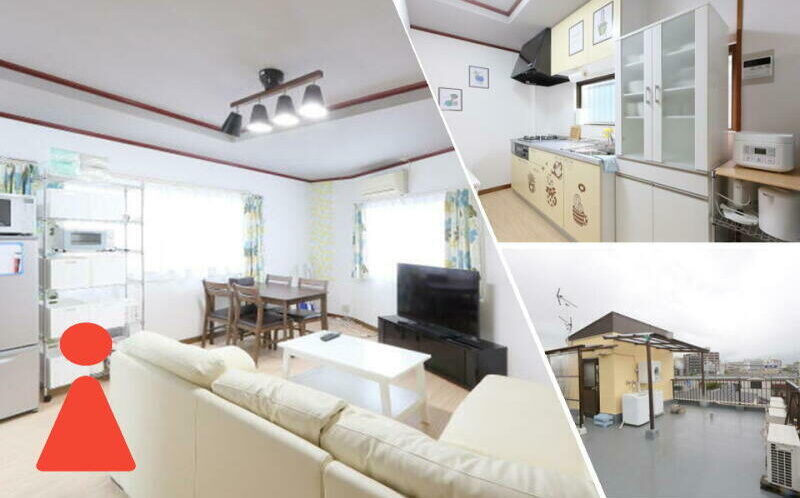 It takes only 8 minutes to walk to Nishikujo Station and 6 minutes by train to Umeda (Osaka Station), which is only three stops away. It is also very convenient to go to Namba by train because It is only 4 stops away.
This Nishikujo House, which is very convenient to go to the two areas of Osaka, is opened.
It is a medium-sized Share House with seven rooms converted from the dormitory of other companies. The house faces south and has great light from two sides. Each room has at least 12.5 square meters. There is a balcony with an excellent view, a double bed with a width of 140-160 cm, each room is equipped with a double-door refrigerator and a large closet.
It takes only 5 minutes by train to Universal Studios, a popular theme park in Osaka. You even can reach to Universal Studios by bicycle. There are convenient stores, supermarkets, post offices and home grocery stores near to this house.
Life will be so convenient by living here!
This house is available for 7 occupants. Size of each room is 12.7~13.8 square meters.
There are bed , air-condition , personal refrigerator, table and storage space at each private room.
There are TV, public refrigerator, washing and drying machine, vacuum cleaner, cooker, tableware at common area.
Nice access.
8 minutes to Nishikujo station on foot.
You can early take on JR loop, Hanshin Namba line and Sennichimae line.
Lots of commercial facilities and restaurants around the house.
Convenience store (7-11, 1 mins on foot), Super market (Life, 6 mins on foot / Bestshop Nishikujyo, 4 mins on foot ), Home center ( 16 mins on foot ), 7 minutes to Konohana Nishikujo Post Office on foot.
You should pay the service fee 18,000 yen (only once), and fire insurance fee 5,400 yen (per year) when you move in.
The occupant needs a guarantor. Foreigner needs to provide your identified ID card or passport and emergency contact information.
Location

Noda 6-chome, Fukushima-ku, Osaka
Stations

JR loop line Nishi Kujo station 8 min on foot
Hanshin Namba line Nishi Kujo station 8 min on foot
Subway Sennichimae line Tamagawa station 9 min on foot
Time required to terminal station

Osaka (Umeda) station 6 minutes by train 
Namba station 9 minutes by train
Universal City station 5 minutes by train
Tenant

Female, no smoking
Capacity

7 people
Shared lounge

1 place
Bicycle Parking lot

None
Music room

table, sofa, wsashing machine, drying machine, kitchen, microwave oven, oven, cooker, tableware

Internet

Wi-fi
Room Furniture

Bed, dressing desk, air-conditioner, closet, refrigerator, curtain