C's(Si:s)share NishiKujo
Special offer New price
¥40,000~42,000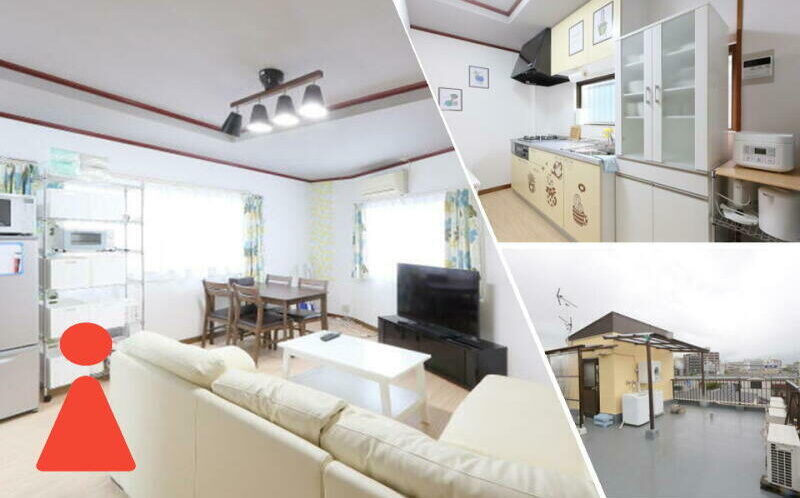 "C's (Si:s) share Nishikujo" is located an 8-minute walk from Nishikujo Station, with convenient access to Umeda (Osaka Station) in just 6 minutes and 3 stops on the JR Osaka Loop Line, and to Namba in 9 minutes and 4 stops on the Hanshin Namba Line.
This medium-sized share house, renovated from a former special zone private lodging, consists of 7 rooms. All south-facing rooms with light from two sides are over 12.5 square meters, offering a spacious space. In addition, it is equipped with facilities that support a comfortable life, such as a roof balcony with a great view, double beds with a width of 140-160 cm, 2-door refrigerators in all rooms, and large closets.
Worth noting is its close proximity to Universal Studios Japan (USJ), just 2 stations and 5 minutes away! It's a cycling distance, and it is very popular as a short-term stay base for crews and entertainers working at USJ. The surrounding area is equipped with facilities necessary for living, such as convenience stores, supermarkets, post offices, and home centers.
This share house has a capacity of 7 people, and each room is 12.7 to 13.8 square meters. Each room is equipped with a bed, air conditioner, refrigerator, dressing desk, and storage space. The shared area includes a TV, refrigerator, washer/dryer, vacuum cleaner, cooking utensils, and tableware, allowing for a comfortable shared life.
Nearby facilities include: Convenience store (Seven Eleven, 1-minute walk), Supermarket (Life, 10-minute walk, Business Super, 4-minute walk, Best Shop Nishikujo, 6-minute walk), Home center (Konan, 16-minute walk), Konohana Nishikujo Post Office, 7-minute walk.
Occupancy conditions: Women only, aged 18-39.
One-time costs: Official commission of 20,000 yen. There is an examination. No guarantor required. No security deposit or key money.
Monthly costs: include Rent, Utility charge of 13,000 yen, Payment fee of 800 yen, Fire insurance premium of 500 yen. Guarantee charge of 1,000 yen.
Location

Noda 6-chome, Fukushima-ku, Osaka
Stations

JR loop line Nishi Kujo station 8 min on foot
Hanshin Namba line Nishi Kujo station 8 min on foot
Subway Sennichimae line Tamagawa station 9 min on foot
Time required to terminal station

Osaka (Umeda) station 6 minutes by train 
Namba station 9 minutes by train
Universal City station 5 minutes by train
Tenant

Female, no smoking
Capacity

7 people
Shared lounge

1 place
Bicycle Parking lot

None
Music room

table, sofa, wsashing machine, drying machine, kitchen, microwave oven, oven, cooker, tableware

Internet

Wi-fi
Room Furniture

Bed, dressing desk, air-conditioner, closet, refrigerator, curtain