C's(Si:s)share Hankyu Mikuni PRIME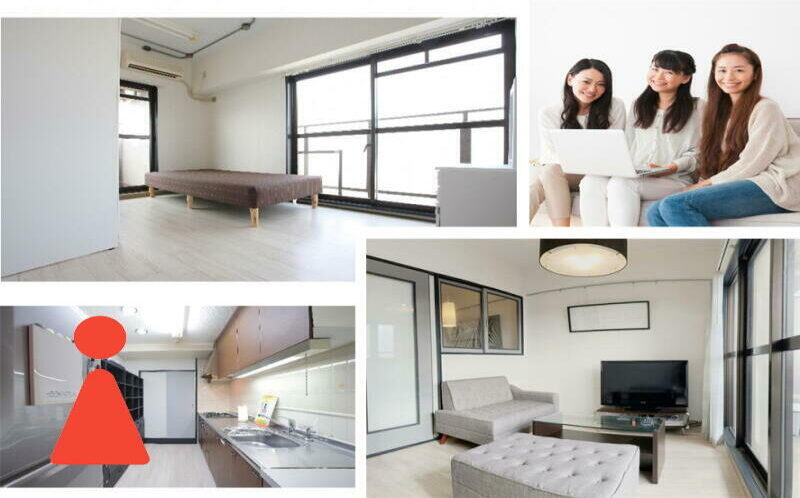 Until now, we, C's (Si: s) share, set an age limit around "20 to 39 years old" to avoid conflicts caused by differences of values vising. However, after the share house was founded, 15 years passed. Some of the residents who still live at our share house, have grown older and exceeded age 40.
In response to the pass of time, we decided to open a share house for aged 30-49. "C's (Si: s) share Hankyu Mikuni PRIME" is located on the 14th floor of a 15-storey apartment. There are no other tall buildings around, so the view is excellent. Three of the four rooms have balconies. This place was owned by an interior designer, for that you can feel the designer's own persistence and beauty. Now this luxurious space is only available for four people.
In Hankyu Mikuni area, there are many family apartments, large supermarkets and shopping streets. Also, the security along the Hankyu line is really good. It only cost you 8 minutes to go to Hankyu Mikuni station on foot. The Midosuji Line Higashi-Mikuni Station and Shin-Osaka Station are also within the bicycle range. It is very convenient to make commuting to work or school, too.
Access
Hankyu Takarazuka Line – Mikuni Station, 8 min on foot (to Umeda Station by tram, 14 min); Subway Midosuji Line – Higashi-Mikuni Station, 16 min on foot.
Fully equipped for shopping!
Supermarkets (Viewl Hankyu-Mikuni store, 6 min on foot; Foods Market satake Shin-Osaka store, 3 min on foot; Life Central Square, 7 min on foot), convenience stores (7-11, 3 min on foot), lots of restaurants and banks. Yodogawa Mikuni-ni Post Office, 4 min on foot.
For 4 tenants each room includes bed, dresser, air conditioner, storage space
Common area includes television, refrigerator, washing machine, dryer, vacuum cleaner, cookware, dishware
When you move in, there is a one time Official commission of 18,000 JPY. Fire insurance is 5,400 yen a year. Move-in interview/background check. Guarantee charge is 1,000 JPY a month.
Location

3 Mikuni-honmachi, Yodogawa-ku, Osaka-city
Stations

Hankyu Takarazuka line Mikuni Station on foot 8 minutes
Subway Midosuji line Higashi- Mikuni Station on foot 16 minutes
Tenant

Only woman Non-smoking House
Capacity

4 persons
Bicycle Parking lot

Yes(200yen/per month)
Parking lot

Yes(20,000yen/per month)
Internet

Wireless LAN Wifi
Common Furniture & Appliances

washing machine, drier, dining room, 40 type television, kitchen, Cookware , microwave oven, toaster, plates, cutleries
Room Furniture

bed, dresser, air-conditioner, lighting, closet