C's(Si:s) share Komagawa-Nakano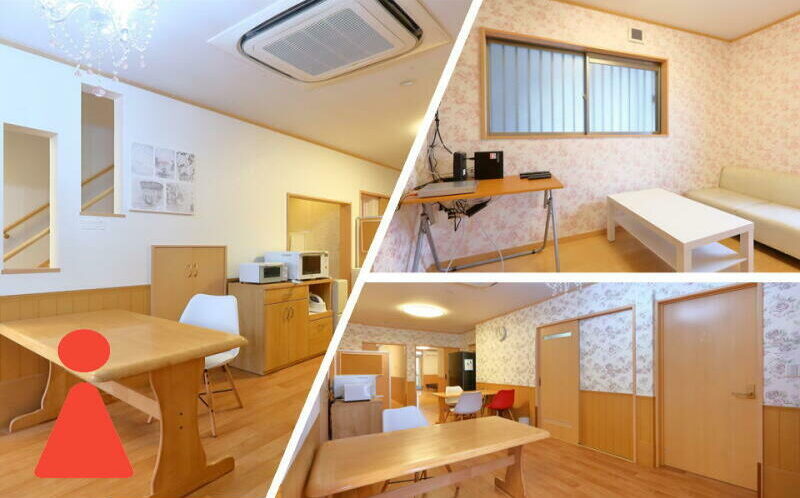 "C's(Si:s) share Komagawa-Nakano," located in the southern Osaka area.
This share house is just a 10-minute walk from "Nagai Park," one of the largest parks in Osaka, offering an attractive environment rich in nature. Also, the nearby Komagawa shopping street provides affordable shopping options, and there are plenty of vibrant shops where you can find everything you need for daily life. You can use the Tanimachi Subway Line and the Kintetsu Minami-Osaka Line, making access to Tennoji a breeze in just 13 minutes.
This share house reuses a building that was originally a senior house, and its walls are thick, providing excellent sound insulation and fire resistance. Some of the private rooms are spacious and equipped with toilets and washbasins. It's also possible for pairs of friends or sisters to live together.
There are seven private rooms, each ranging from 9 to 18 square meters, and are equipped with beds, air conditioners, refrigerators, desks, and closets. The shared area is equipped with a TV, refrigerator, washer/dryer, vacuum cleaner, cooking utensils, and tableware. It's a rarity for a share house, but this one comes with a parking space, making it welcoming for those with cars or motorcycles.
It also boasts excellent access. The Komagawa-Nakano station on the Tanimachi Subway Line is a 9-minute walk away, and the Harinakano station on the Kintetsu Minami-Osaka Line is a 7-minute walk away, offering access to two different lines.
Why not start a new life at "C's(Si:s) share Komagawa-Nakano"? We encourage you to come and take a look. We look forward to seeing you.
Nearby facilities include: Super Tamade Komagawa Store (3-minute walk), Kinsyo Store Harinakano (7-minute walk), OS Drugstore (2-minute walk), Daikoku Drugstore (4-minute walk), Can Do (2-minute walk), Daiso (3-minute walk), Family Mart (4-minute walk), and Higashi Sumiyoshi Komagawa 5 Post Office (4-minute walk).
Occupancy conditions: Women only, aged 18-39
One-time costs: Official commission of 20,000 yen. There is an examination. No guarantor required. No security deposit or key money.
Monthly costs: include Rent, Utility charge of 13,000yen, Payment fee of 800yen, Fire insurance premium of 500 yen. Guarantee charge of 1,000 yen.
Location

2chome Higashi Tanabe Higashi Sumiyoshi-ward Osaka-city
Stations

Subway Tanimachi line Komagawa Nakano station on foot 9min
Subway Midosuji line Nishi Tanabe station on foot 20min
Kintetsu Minami Osaka line Harinakano station on foot 7min
Time required to terminal station

Osaka(Higashi Umeda) 22min
Tennoji 13min
Tenant

Only for Women / No smoking
Capacity

11 people (7 rooms)
Bicycle Parking lot

Free (parking space in front of the entrance.)
Internet

Wireless LAN Wifi
Common Furniture & Appliances

Table, Sofa, Washing machine, Drying machine, Kitchen, Microwave Oven, Toaster, Cooking wares, Tableware
Room Furniture

Bed, Dresser-desk, Air Conditioner, Closet, Refrigerator