C's(Si:s)share Komagawa Nakano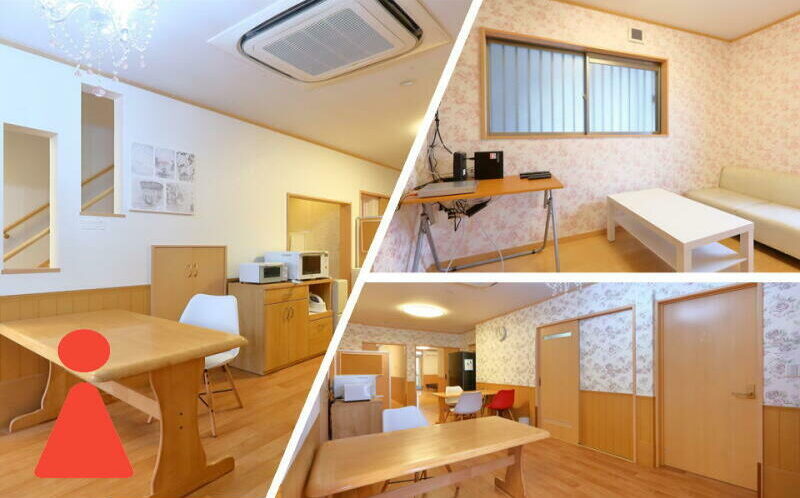 Komagawa Nakano is the hometown of the J league soccer team, Cerezo Osaka. The sharehouse is also a mere 10 minute walk from Nagai Park, a spacious area filled with flowers, trees, and other greenery. The bustling Komagawa shopping district is filled with supermarkets, drugstores, and hundred yen shops, making it extra convenient for easy living. It's also simple to get around Osaka, with the nearby subway Tanimachi Line and kintetsu railway. It only takes 13 minutes to reach Tennoji.
This former home for seniors has been transformed into a wonderful sharehouse. As it was previously used for boarders, you can rest assured that the walls are thick and soundproof. Some rooms are even large enough to have a toilet and wash basin in the same room! You could move in with a friend or sister.
For 11 tenants each room is 7.65-16.83m2, and includes bed, air conditioner, refrigerator, desk, storage space. Some rooms have toilets and wash basins.
Common area includes television, refrigerator, washing machine + dryer, vacuum cleaner, cookware, dishware
Access
Easy access to 2 lines. Subway Tanimachi Line - Komagawa Nakano Station, 9 min on foot; Kintetsu Minami-Osaka Line - Harinakano Station, 7 min on foot. By kintetsu, 13 min to Tennoji Station.
Local commerce and restaurants
Supermarkets (Super Tamade Komagawa, 3 min on foot; Kinsho Store, 7 min), drugstores (OS Drug, 2 min on foot; Daikoku Drug, 4 min), 100 yen shops (Can Do, 2 min on foot; Daiso 3 min), convenience stores (Family Mart, 4 min on foot), Higashisumiyoshi Komagawa 5 post office 4 min on foot.
When you move in, there is a one time Official commission of 18,000 JPY. Fire insurance is 5,500 yen a year. Move-in interview/background check. Guarantee charge is 1,000 JPY a month.
Location

2chome Higashi Tanabe Higashi Sumiyoshi-ward Osaka-city
Stations

Subway Tanimachi line Komagawa Nakano station on foot 9min
Subway Midosuji line Nishi Tanabe station on foot 20min
Kintetsu Minami Osaka line Harinakano station on foot 7min
Time required to terminal station

Osaka(Higashi Umeda) 22min
Tennoji 13min
Tenant

Only for Women / No smoking
Capacity

11 people (7 rooms)
Bicycle Parking lot

Free (parking space in front of the entrance.)
Internet

Wireless LAN Wifi
Common Furniture & Appliances

Table, Sofa, Washing machine, Drying machine, Kitchen, Microwave Oven, Toaster, Cooking wares, Tableware
Room Furniture

Bed, Dresser-desk, Air Conditioner, Closet, Refrigerator