C's(Si:s)share Tezukayama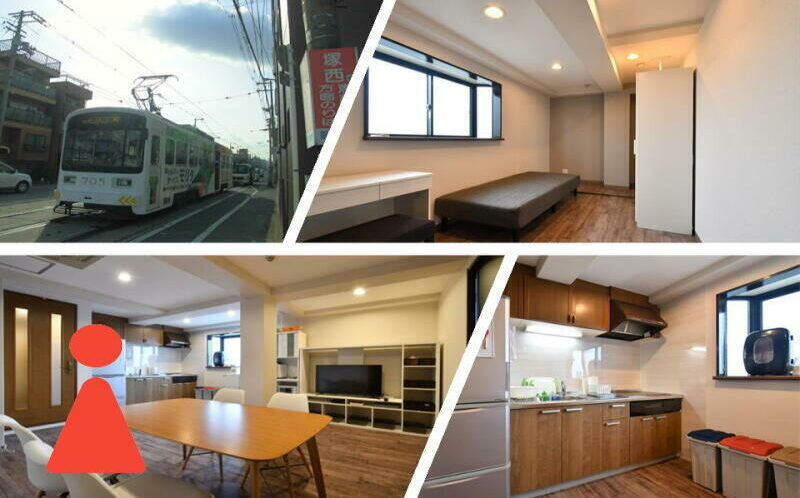 C's share's new house in the Tezukayama area, one of the most luxurious residential areas in Osaka. The transportation to the South Osaka area is very convenient.
If you want to go to "Namba or Tennoji" station, there are four stations for you can take on the tram.
It takes only 5 minutes to walk to "Tezukayama Station" and 8 minutes to "Namba Station" by tram.
It takes only 10 minutes to walk to " Himematsu Station" which is close to the House, and 10 minutes to "Tennoji Station" by tram. It takes only 10 minutes to walk to another "Tamade Station", and 20 minutes to "Nishi Umeda Station" by tram. This House is at a convenient location, but with quiet and relaxing surroundings.
While taking a walk, you may find fashionable coffee shop or small restaurant at somewhere.
Because this house has a capacity of 5 people, you can luxuriously use 5LDK which has over 100㎡.
It is a small-scale female-only Share House. You can keep your privacy life space, meanwhile share your life story with roommates. If this is the life-style you wish, don't hesitate to contact us to visit this house!
This house is available for 5 occupants. Size of each room is 8.0~13.2 square meters. There are bed , air-condition, dress table and closet at each private room. There are TV, refrigerator, washing and drying machine, vacuum cleaner, cooker, tableware at common area.
Excellent access .
5 minutes to Tetsukayama station on foot.
You can easiily take on Nankai Koya Line, Osaka Metoro Yotsubashi Line, Hankai Line and Uemachi Line of Hankai Tramway.

Lots of commercial facilities and restaurants near to Tamade station.
Convenience store (7-11, 6 mins on foot), Supermarket Tamade, 9 mins on foot / Sugi drugstore, 10 mins on foot ), Mitsubishi UFJ bank-Tamade (11 mins on foot ), 7 minutes to Nishinaritamade Post Office on foot.
You should pay the service fee 18,000 yen (only once), and fire insurance fee 5,400 yen (per year) when you move in. Foreigner needs to provide your identified ID card or passport and emergency contact information.
Location

Osaka City Sumiyoshiku Tetsukayamanishi 1 Cyoume
Stations

Nankai Koya Line Tezukayama station, 5 mins on foot
Osaka Metoro Yotsubashi Line Detama station, 10 mins on foot
Hankai Tramway Hankai Line Tsukanishi station, 5 mins on foot


Time required to terminal station

Go to tenoji (Abeno station) , 10 mins by train
Go to Nanba station ,8 mins by train
Go to Osaka (Nishiumeda station) , 16 mins by train

Tenant

Female only, no-smoking
Capacity

5 people
Shared lounge

1 place
Bicycle Parking lot

Yes (for free)
Internet

Wi-fi
Common Furniture & Appliances

Table, sofa, washing machine, during machine, kitchen, oven, cooker and tableware
Room Furniture

bed , dress table , air-condition and closet (storage space) and curtain