CASA VERDE K MIDORIBASHI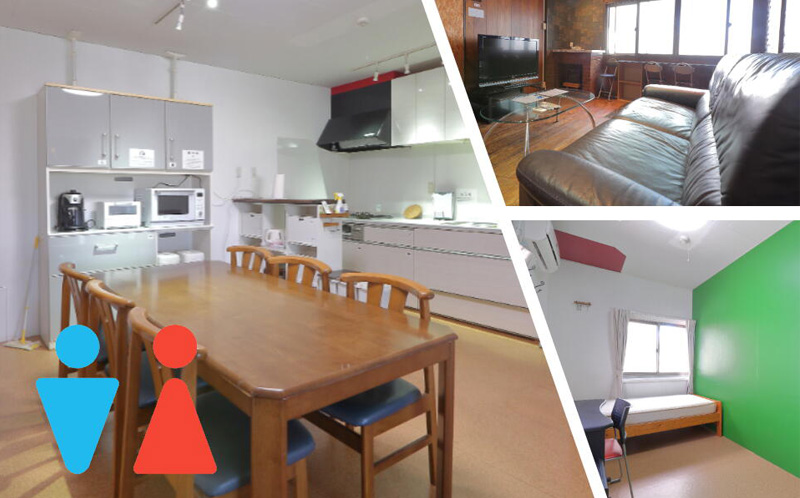 For those seeking a new stage in life in the Midoribashi district: Just a 6-minute walk from the Midoribashi subway station, the "CASA VERDE K Midoribashi" is a share house that gathers people from diverse lifestyles. From active professionals to students, foreign exchange students, and those on working holidays, this place boasts popularity among a broad range of individuals.
One of its appeals is its proximity to Osaka Castle Park, while also being adjacent to numerous facilities that cater to everyday necessities. Convenience stores, supermarkets, eateries, and even banks, post offices, and gyms are available nearby to enhance daily living. Notably, the subway Chuo line, which is already slated for extension to Sakishima (the Kansai Expo), is a line that's gaining attention.
Of particular note is the interior design by an architectural firm renowned for designing upscale boutiques and restaurants. During the 2019 renovation, this professional design was brought to life with the owner's DIY full-scale renovation. As a result, the space, while being sophisticated and designer-grade, radiates the warmth of handcrafted touches, offering a homely atmosphere. Furthermore.
Inside, the house comprises eight private rooms and a spacious shared area exceeding 30㎡. Each room is fully equipped with essential amenities, allowing residents to move in with just their personal belongings. The shared space features a living and dining area, as well as a bar corner and a designated ironing space.
Also, the utility fees include water, electricity, internet charges, and the cost of consumables, offering excellent cost performance. Located facing the central avenue, the bright street lights ensure a safe walk home even at night.
Why not start a new chapter in your life at CASA VERDE K Midoribashi?
Occupancy conditions Male / Female Age 18-39.
One-time costs: Official commission of 20,000 yen. There is an examination. No guarantor required. No security deposit or key money.
Monthly costs: include Rent, Utility charge of 13,000yen, Payment fee of 800yen, Fire insurance premium of 500 yen. Guarantee charge of 1,000 yen.
Location

Osaka City Higashinari-ku Higashi Imazato 2 Chome
Stations

Subway Chuo Line Midoribashi station, 6 mins on foot
Subway Imazatosuji Line Midoribashi station, 6 mins on foot
Time required to terminal station

Go to Honmachi, 8 mins by train
Go to Umeda (Osaka station), 16 mins by train
Tenant

Male and female mixed Foreigners welcome, no-smoking
Capacity

8 people
Shared lounge

2 place
Bicycle Parking lot

No
Internet

Wi-fi
Common Furniture & Appliances

Table, sofa, TV, washing machine, drying machine, kitchen, microwave oven and tableware
Room Furniture

bed , desk , air-condition , Hanger, and curtain