Awaza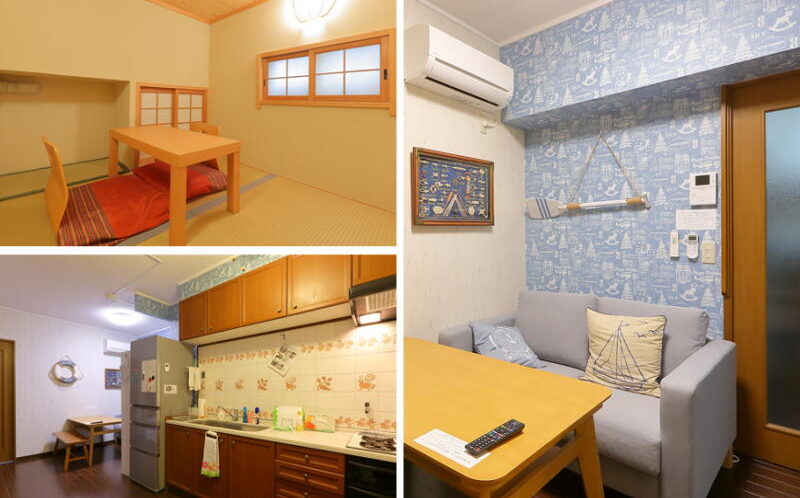 The 2ed house of C's share in Nishi-ward Osaka-city. Awaza is located within residential districts. There are some historic sites of foreign settlement. It seems that you can get lots of fun by walking around these sites. It only takes you eleven minutes to go to Osaka city cyuon library, and three minutes to pool on foot.
Theme of this house is Boat house. Marine color is right matched to the theme. Rooms are the image of boat room which has enough space for one female to live. There are four rooms for four people to live in this apartment. How about having a talk with your flatmates like family here?
For 4 tenants rooms are about 8.25-11.55m2. Each room includes bed, air conditioner, desk, storage space
Common area includes television, refrigerator, washing machine, vacuum cleaner, cookware, dishware
Access
There are two stations around here. Subway Awaza station, 5 minutes on foot.
Subway Nishinagahori station, 7 minutes on foot. It only costs you one minutes to Honmachi, 3 minutes to Shinsaibashi, 5minutes to Nanba by subway.
Local commerce and restaurants
Superpmarket ( Life, 7 mins on foot ), convenience store ( family mart, 5 mins nfoot / 7-11 5mins on foot) , post office ( 6 mins on foot ), district office ( 6 mins on foot ), Hospital ( 2 mins on foot ), library ( 11 mins on foot ), swimming pool ( 3 mins on foot ).
You need to pay the servise charge, 18,000 yen, when you move in. Fire insurance 5,400 yen per year. Foreigner needs to provide your identified ID card or passport and emergency contact information.
Location

6 Chome Itachibori, Nishi-ku, Osaka-city, Osaka
Stations

Subway Chuo line Awaza station 5 minutes on foot
Subway Sennichimae line Awaza station 5 minutes on foot
Subway nagahoritsurumiryokuchi line Nishinagahori station 7 minutes on foot
Time required to terminal station

Honmachi station 1 minute / Shinsaibashi station 3 minutes
Nanba station 5 minutes / Osaka(Umeda)station 13 minutes
Tenant

Female, no smoking
Capacity

4 people
Bicycle Parking lot

Charge, 200yen/month
Internet

Wifi
Common Furniture & Appliances

washing machine, drier, dining room, 40 type television, kitchen, Cookware , microwave oven, toaster, plates, cutleries
table, sofa, wsashing machine, drying machine, kitchen, microwave oven, oven, cooker, tableware
Room Furniture

Bed, dressing table, air-conditioner, armoire