JR Tsukamoto – Juso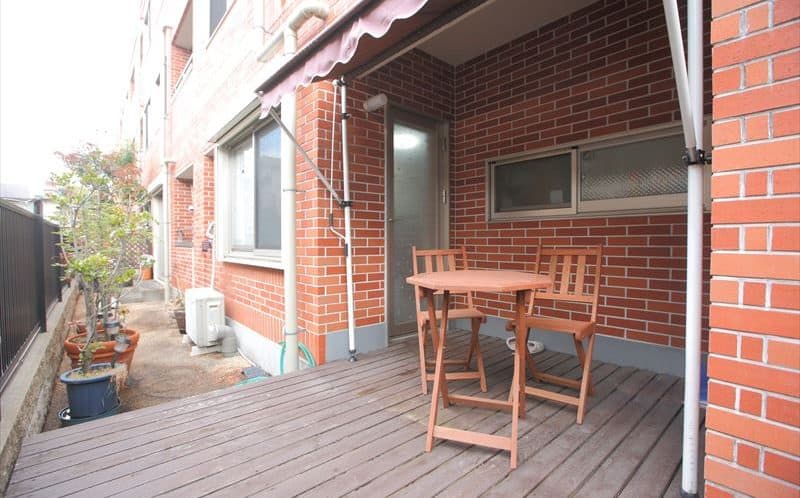 C's(Si:s)share Tsukamoto is a lovely sharehouse conveniently located a 6 minute walk from Tsukamoto Station, which is just one station away from JR Osaka Station. A small scale sharehouse for four people, here you can live with a sense of cleanliness, a full kitchen, bathroom, garden terrace, and of course your own private room. You'll have easy access to the heart of downtown Osaka as well as Kobe, and you'll be within bicycling distance of Hankyu Juso Station. Tsukamoto has a small town feel, combining a warm shopping district full of small stores with a nearby residential district. With plenty of nearby supermarkets and convenience stores, we highly recommend this location for those transferred to Osaka by their job, or those living for the first time on their own. Try living in a social way you can't get from a one room apartment!
Access
JR Tsukamoto Station: 6 minutes on foot (Umeda - 16 minutes) / Hankyu Line Juso Station: 19 minutes on foot
Fully equipped for shopping!
Hankyu Oasis Tsukamoto branch, 4 minutes on foot; Life Supermarket Tsukamoto branch, 10 minutes on foot. Yodogawa Tsukamoto Post Office, 3 minutes on foot (The area surrounding Tsukamoto Station has more shopping spots where you can find fast food and other restaurants.)
For 4 tenants each room includes bed, dresser, air conditioner, storage space
Common area includes television, refrigerator, washing machine, dryer, vacuum cleaner, cookware, dishware
When you move in, there is a one time Official commission of 18,000 JPY. Fire insurance is 5,500 yen a year. Move-in interview/background check. Guarantee charge is 1,000 JPY a month.
Location

4 Tsukamoto, Yodogawa-ku, Osaka-city
Stations

JR Tsukamoto Station on foot 6 minutes
Hankyu line Juso Station on foot 15 minutes
Tenant

Only woman Non-smoking House
Capacity

4 persons
Bicycle Parking lot

Yes (No charge)
Parking lot

No
Internet

Wireless LAN Wifi
Common Furniture & Appliances

washing machine, drier, dining room, television, kitchen, Cookware, microwave oven, toaster, plates, cutleries.
Room Furniture

bed, dresser, air-conditioner, lighting, closet or hanger.